DISCOVER OUR HOME CUISINE AND OUR TERROIR SPECIALTIES MADE OF FRESH AND LOCAL PRODUCTS
Vegetarian, gluten-free and vegan: welcome, we will adapt!
The allergens list is available on request.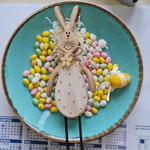 Served from friday 15 to wednesday 20 april

Menu 48€ starter + main course + cheese OR dessert
Menu 53€ starter + main course + cheese AND dessert
Menu 65€ starter + fish + meat + cheese AND dessert
Appetizers
Starters
Asparagus tips and angel hair, sea bass tartar and crab meat, virgin artichoke citrus coriander sauce
or
Pressed duck foie gras, smoked duck breast, blackcurrant jelly, pear with thyme, hazelnut shortbread, celery and carrot salad
Main courses
Grilled fillet of sea bream, sliced fennel and cockles, timut pepper whipped cream, passion fruit sauce
or
Lamb fillet in chickpea flour crust, cumin bean purée, aubergine caviar curry, saffron juice
Cheese
White, fresh cottage cheese
or
Cheese board
or
Burgundy soft cheese, made from cow milk served crisp warm on a small salad
Dessert "Oh! La gourmandise de Pâques !"
Dark chocolate egg, white chocolate basil cream, strawberry jelly, hibiscus flower, cactus and lime sorbet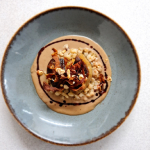 Lunch formula | 25 €
Every day for lunch, except Sunday
main course of the day + gourmet coffee
And also large gourmet salads from 15 to 37€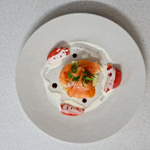 Les saveurs du moment | 30 €
Entry + main course + cheese or dessert
(37€ with dessert)
Entries
Colored tomatoes with herbs, fresh goat's cheese mousse, raw ham, parmesan biscuit
Or
Cold melon and redcurrant soup with Pineau des Charentes, skewer of mozzarella and melon
Main courses
Fresh salt water fish filet of the day grilled, black rice, fennel and green olive sauce, anchovy whipped cream
Or
Roasted skirt of veal, mashed potatoes with haselnuts, coffee and sage sauce
White fresh cottage cheese with cream
Or
Dessert of the day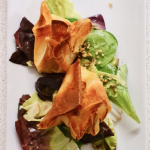 Vegetarian Formula | 35 €
Every day for lunch or dinner
Choose two plates among the "vegetarian pleasures" + cheese or dessert
Vegetarian pleasures hot & cold:
Mixed vegetables salad with vinaigrette
Warm soup of the day
Two organic hen eggs poached, warm local creamy cheese sauce, mushrooms, toast
Fresh pasta, mixed vegetables, pesto sauce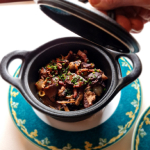 Les classiques de notre terroir | 37 €
Every day at lunch or dinner
Entry + main course + cheese or dessert

Entries
Poached organic eggs served on a toast in a red wine sauce
Or
Twelve snails in butter,garlic, parsley, almonds
Main courses
Cockerel cooked slowly in a red wine sauce with onions, bacon, mushrooms,served with fresh pasta
Or
Fresh salt water fish filet grilled, side of the day
Cheese
Burgundy soft cheese , made from cow milk, served warm in a brick sheet and a small salad
Or
Fresh cottage cheese
Or
Dessert  
Soft ice cream home made with local Brandy
Or
Speculoos shortbread, blackcurrant verbena mousse, custard, pink cooki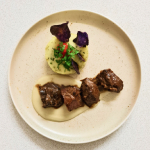 Aux saveurs des 4 saisons | 47 €
Every day for lunch or dinner
Appetizer+ Entry + main course+ cheese or dessert 

Entries
Paté of free-range poultry and crayfish, mustard and tarragon chantilly,small salad
Or
Roasted king prawns all shelled, tomato gaspacho, marinated mussels and artichoke Barigoule, rocket pistou
Main courses
Fresh fish filet of the market grilled, side of the day
Ou
Roast lamb fillet, some chanterelles, ratatouille,Tempura of courgettes, lamb and red wine juce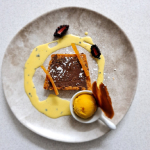 Every day for lunch or dinner
Reserved for children under 12
Salad
Chicken breast or market fish
Tagliatelle
Cottage cheese or ice cream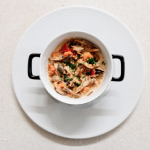 The "carte" of the Chef Fabrice Germain
LES PLAISIRS VÉGÉTARIENS
froids & chauds
Menu végétarien à 35€ avec une entrée + un plat + un dessert ou fromage
La  salade, légumes frais cuits, confits, vinaigrette de vin rouge
14€
La soupe du jour 
12€
Les œufs de poule Bio élevés en plein air, pochés, crème chaude à l'époisses Berthaut, quelques champignons, pain grillé
18€
Pâtes fraîches et légumes du moment, sauce pistou
22€
LES ENTRÉES
froides & chaudes

Les escargots de bourgogne, en pot traditionnel au beurre, ail, persil, amandes
Les 6 escargots

10€
     
Les 12 escargots
20€
Les Œufs de poule Bio en meurette de vin rouge sur son toast frotté à l'ail
15€
La fricassée du braconnier (spécialité de la maison depuis 1989), 9 Escargots de Bourgogne sauvages  en cassolette, sauce noix, crème, champignons, tomates confites, crevettes
17€
Le jambon persillé, fait par notre boucher, panna-cotta à la moutarde à l'estragon Fallot de Beaune
15€
LES PLATS
poisson ou crustacés

Le poisson du marché en filet grillé à la plancha
25€
Demi homard tout décortiqué, semi froid, velouté de petit pois au vin blanc, huile homard au curry, tuile à l'encre de seiche
37€
volaille ou viande
Le coq au vin rouge tout désossé, lardons fumés, champignons de Paris frais, oignons Grelots pâtes fraiches, servi en cocotte
25€
Le filet de bœuf grillé, viande Charolaise, pressé de pommes de terre à la graisse de canard et romarin, joue braisé au vin rouge, crème d'échalotes
35€
De l'entrée au dessert, tout est fait maison , exceptés le jambon persillé fait par notre boucher et les sorbets et glaces par un maître glacier
LES FROMAGES 

Le fromage blanc en faisselle, suivant l'envie, sucre ou sel, avec ou sans crème
Le plateau des fromages d'ici et d'ailleurs 3 portions
7€
6 portions
12€
Le croustillant d'époisses Berthaut , servi chaud en feuille de brick, salade à l'huile de noix
12€
LES DESSERTS , gourmand'isent / fruits / couleurs / textures

10€
Entremet sablé Spéculoos, mousse verveine cassis, crème anglaise, biscuit rose de Reims, sorbet pêche blanche

Tartelette aux fraises, mousse coco et éclats pistache, granité Limoncelo, guimauve à la Chartreuse

Fantaisie autour du chocolat : crumble cacao + mousse chocolat menthe + glace chocolat
Le parfait glacé au marc de Bourgogne, glace onctueuse faite maison au marc de Bourgogne, coulis de fruits

Le trio de sorbet artisanal : Pêche blanche + mûre + abricot +  biscuit 

Le trio de glace artisanal : vanille + barbapapa  + chocolat + biscuit 

Idée sucrée du moment

Café ou thé ou déca gourmand, accompagné de 4 mini desserts : gâteau chocolat + tarte fruits + meringue + boule de glace
Nos glaces et sorbets sont fabriqués artisanalement par un maître glacier ,tous les autres desserts sont créés maison par le chef